This is the second in my interview series with talented Etsy and other independent artists
Recently I had the privilege of interviewing Micki (
Keeping It Sweet - Homemade Treats
) Her creations are spectacular looking and absolutely delicious. I recently purchased her Death by Chocolate Brownies and can vouch for how wonderfully yummy they ARE! Purchasing one of Micki's treats IS truly a treat.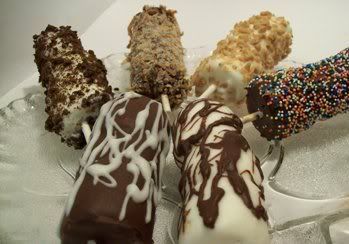 Marshmallow Pops
1. Tell us a little bit about yourself.

Hi, My name is Micki and I was born and raised in Tennessee, I still live here and I'm married and we have 2 boys.


2. Tell us what you are working on currently. Any new goodies?

well yes I do have a couple of new items I'm going to put up this week. Chocolate Chip Cookies and Marshmallow Pops.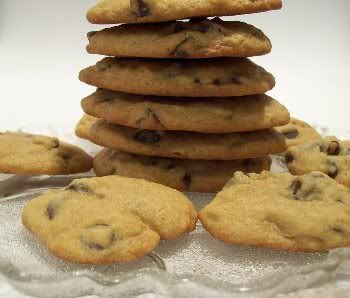 Chocolate Chip Cookies


3. What prompted you to open an Etsy shop?

A friend of mine who sells soaps told me about it and I watched it for several months. I'm the type that has to really think about something before I do it.
After thinking about if for several months, I decided to give it a try.


4. How long have you had your Etsy Shop?

Since the middle of April of this year.

5. Tell us about your Etsy shop. What do you offer there?

I offer handmade brownies in a assortment of flavors, handmade marshmallows, cookies and the new item...marshmallow pops.


6. Are any of your goodies holiday specific?

I'm working on some ideals for the holidays.


7. Was there a major influence in your life?

My mother. She was my cheerleader in everything I have ever done.


8. What inspires you?

Everything. I can look at things and see brownies, cookies and marshmallows in them.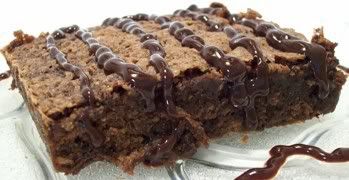 Not So Plain Jane Brownies
9. Where do you get your recipes?

They were my moms


10. How and when did you learn to bake?

My mother


11. What is a certified baker?

When I was still working for a caterer here. I took all of the required classes in food prep and sanitation in food prep areas. It's the step before being actually licensed. In order to do that I would have to have a brick and mortar business and right now I rent a kitchen at a church close to my home.


12. What are your favorite ingredients?

LOL right now chocolate and toffee. ask me again next week......I'm sure it will change.

Java Overload Double Chocolate Lovers Brownie
13. Do you experiment a lot with your baking? If so, what is the process?

Not really...I work on a recipe until its the way I want then I don't change it. If its not broken etc etc.


14. How do you promote your goods?


Etsy, I have a blog and several moms groups that I'm a member of. On Etsy I join in the forums alot.


15. What has been the most important lesson you've learned since you started selling your own creations?

Don't make brownies when your kids are around.......lol things have a habit of disappearing.


16. What advice would you give to others who are thinking about or have just opened an Etsy shop?

Oh Lord....patience patience. and don't sit on the computer and watch your store all day. watched water will not boil. make new items, create create create.


17. Do you have any favorite Etsy artists or online bakers you admire?

My mom. She was a breakfast and bakery chef.


Many thanks to Micki aka keepingitsimplysweet for granting this interview.