Hi everyone! Mother's Day is our
EtsyBloggers
blog carnival theme this week and it is a topic close to my heart. My grandmother, Bee, attended the very first Mother's day in Grafton, West Virginia in 1908. Anna Jarvis was the lady who started Mother's Day to honor her own mother, Ann Jarvis and she started it in Grafton because it was her mother's hometown. Bee attended Mrs. Jarvis's Sunday School class and had her picture taken in 1911 as part of the Ann Jarvis Memorial Sunday School Class. The picture represented the group of all children who had ever been taught in Sunday School by Mrs. Jarvis and my grandmother was one of the youngest in the picture since Mrs. Jarvis taught Sunday School for many years. Bee remembered that Mother's Day in 1908 very well even though she was only 6 years old. Anna Jarvis sent carnations for all the members of the congregation that Sunday. The day was also celebrated in Philadelphia since that was where Anna was living at the time, however, the service in Grafton began a half hour before the service in Philadelphia making Grafton the home of Mother's Day. Andrews Methodist Church, where that first Mother's Day was celebrated (and where Bee's grandfather was pastor for many years) is called the National Mother's Day Shrine. Here are some
pictures
of the church.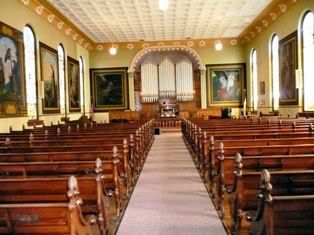 The interior of the National Mother's Day Shrine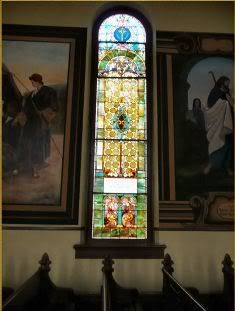 The beautiful stained glass window Bee's parents gave to the church in the late 1800's
Four of the original Sunday School chairs from Ann Jarvis's class.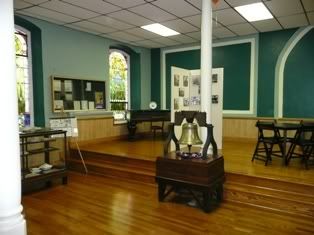 The downstairs room with Ann and Anna Jarvis memorabilia and the letter from President Wilson stating that he proclaimed Mother's Day a national holiday but saying that he would not actually be the one to make the formal public proclamation because he wasn't good at making proclamations (really a remarkable letter from a sitting president)
It is a beautiful church and if you ever get to Grafton, WV, I hope you will stop by to see it.
Anna Jarvis loved her mother and wanted to honor her but more than that she wanted all mothers to be honored. Without Anna's persistence, we would not have a national Mother's Day and that is why we should care. As a side note, Anna lived to see Mother's Day become a commercial success and was dismayed with all the commercialism. Anna's original idea was that this day should be a day where we spend time with our mothers, do some public service or just participate in something that would honor our mothers.
I also wanted to honor my own mother with this post. Mother's Day is a bittersweet day for me. Mother was the best mother a person could have and she passed away on Mother's Day in 2006. Mother was my first home, my first friend, my first enemy. She became my best friend. I miss her with all my being.
Mother, c. 1950 when she was a teacher in Baltimore County, Maryland.