This begins my interview series with talented Etsy artists
Recently I had the privilege of interviewing Deb (
storybeader
) Her creations are spectacular and as an added bonus she always writes a Haiku to go along with each piece. Purchasing one of her lovely jewelry pieces is much more than purchasing a piece of art; it is to be a story keeper.
1.
Tell us a little bit about yourself.

I was born and raised in NJ and moved to Okla. 28 years ago. I work in a museum in southwest Oklahoma, and have a home that I share with my husband and dog.

2. Tell us about your current work and anything else you have in the works.

Well, I love fetishes and treasure necklaces, and I have been experimenting with them. I would love to get into soldering, and hope to take some classes this year.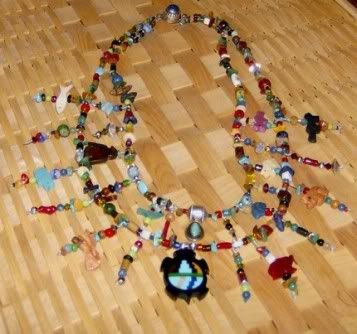 Turtle treasure necklace
Black Turtle found the
Treasure chest, and made fast friends
With the fetish drops.
- Deborah Baroff, the Storybeader

3. What prompted you to open an Etsy shop?

I tried selling on eBay, but couldn't afford the fees, etc. People didn't appreciate my work and the time involved in my pieces (and that store wasn't going anywhere). I also liked the community atmosphere on Etsy.

4. How long have you had your Etsy Shop?
just a few months. I started in Feb of this year.

5. Tell us about your Etsy shop. What do you offer there?
most of my pieces fall under the jewelry heading - or what I like to call "wearable art" - necklaces, bracelets, earrings. I have a few misc. things, I call "other fun stuff." And of course, the storybeader writes haiku, and I put that in the descriptions.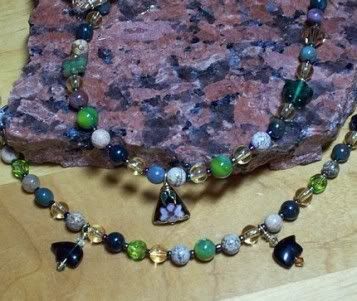 Black Birds Treasure Necklace
In the French forest,
Blackbirds spied white petals through
The colorful trees.
- Deborah Baroff, the storybeader


6. Was there a major influence in your life?

I think my mother was my major influence in my life, and being very sick for a short period as a child.

7. What inspires you?

Colors and words.

8. Where do you create?

I am usually in my house - a homebody, for sure.

9. How did you learn your craft?

Most of what I've learned has been trial and error. Also, a class or two, and some on-line tutorials.

10. What inspires your stories that accompany your creations?

A story will come to mind, spotlighting the focal piece of the necklace, and I fit the words into a haiku.

11. What are your favorite materials?

fetishes and turquoise

12. Are there any materials you consider a MUST-HAVE?

No, not really. There's a fairy tale quality about my jewelry; things are always changing and staying constant at the same time. My favorite colors are a constant - I don't always use the latest fashion color.

13. How do you promote your goods?

I don't spend a lot of time at promotion. Since I work 40+ hours/week at my day job, the internet is a convenient outlet. I sell my pieces on consignment at my museum, and participate in a few art shows/craft fairs during the year. I like to give my jewelry to my favorite charities, which I consider promotion. Etsy is perfect for me, and I love the etsybloggers. I am a member of the oketsies, but don't have the time or $$ to travel and participate in all the things they want to do.

14. What has been the most important lesson you've learned since you started selling your own creations?

People don't always like the pieces I like best. I might have my favorite pieces out at a craft show, and put something down I don't really like, and BAM, it gets picked up first thing. Just to show, everyone is different!

15. What advice would you give to others who are thinking about or have just opened an Etsy shop?

Don't feel bad if your pieces don't fly out of your shop. We are going through bad times right now, and people are cutting back. Also, like a said above, it takes all kinds.

16. Do you have any favorite Etsy artists?

There is a lot of beautiful artwork on Etsy. With jewelry: I just ran across yellowplum beads and walrustusk, who both make great pieces with seed beads. And Wildeyeddesign just has a few things, but they're outrageously fun. Gracegraphics is a fellow Okie, who makes cards with seeds embedded in them. Anyone who can mixed their art and the environment like she does is a favorite of mine.
"Doves Rising"

The young woman looked
Out the tipi towards the white
Doves and rising sun.
- Deborah Baroff, the Storybeader



Native Americans face their tipi to the east. This way, when a person first goes out in the morning, they will be greeted by the sun.
For a real treat, visit storybeader's Etsy shop. You are sure to find something you cannot live without!
Many thanks to Deb aka storybeader for granting this interview.