This is the third in my interview series with talented Etsy and other independent artists. Recently I had the privilege of interviewing Nora (Design By Nora ) Her polymer clay and paper creations are stunning. If you are looking for a special gift or a treat for yourself, take a look at Nora's shop!

1. Tell us a little bit about yourself.


Hello Everyone! How are you guys? My name is Nora and I live in a suburb of Los Angeles, CA. I just graduated from California State University Northridge with a Bachelor of Arts in Art, with a concentration in Graphic Design.


2. Tell us about your current work and anything else you have in the works.


I just graduated college so I don't have a job right now so I'm taking this as an opportunity to work on my Etsy shop until I on my trip in late June. After that I am going to start looking for Graphic Design jobs while doing the Etsy thing.


3. What prompted you to open an Etsy shop?


I actually heard of Etsy about a year ago from Craft magazine and I set up shop. But I guess I wasn't feeling inspired or I wanted to concentrate on school so that I can get out of there as soon as possible, as a result I closed the shop. Now a year later I came back and started again from scratch. I had been making greeting cards before that and had a bunch or jewelry supply so I thought to myself, "Why not?"


4. How long have you had your Etsy Shop?


I opened up at the end of January of this year.


5. Tell us about your Etsy shop. What is its name and what do you offer there?


The name of my shop is Design by Nora and it can be found at http://www.designbynora.etsy.com/. I named it that because I didn't want to restrict myself to only one type of item. I mainly offer greeting cards, polymer clay jewelry, some destash, and in the future non polymer clay jewelry i.e. jewelry made with beads.

6. Was there a major influence in your life?

My parents were a great influence, in that they let me major in art. They let me do my art thing for which I am very grateful. But artistic influence really didn't come to me so I had to go and find it. I went to high school at a private Armenian school so there wasn't much allowance for artistic freedom. At home I would always draw in my lined notebooks scenes that I would daydream at school, like a comic strip. When I graduated high school, I found a whole other world in college, especially when I started taking drawing classes.
7. What inspires you?
That's really a hard thing to narrow down in just a few sentences. I think any artist would agree. But when I'm seeking inspiration or I don't feel the creative flow (which has been rare nowadays) I always go outside and just look around. Other inspirations are other artists: painters, other Etsyians. I love to listen to music and I also get some inspiration from movies, mostly indie.
8. Where do you create?

Mainly in my room in my new 'craft corner'. I have all my supplies at hand so it's the most convenient.
9. How did you learn your craft/crafts?

The internet, books, magazines, television. I just collect the basic how-to's and try to make it my own design or style.
10. I see you have been listing a lot of your polymer clay jewelry in your shop. How did you get interested in polymer clay?
I think I saw it at a craft store and decided to see what it was. I was also interested in doing ceramics and pottery and I though polymer clay is slightly cheaper than taking a ceramics class.
11. What are your favorite materials?
Paper and Polymer Clay.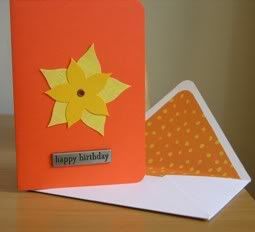 12. Are there any materials you consider a MUST-HAVE?


Paper and Polymer Clay! They are both so versatile! :D


13. How do you promote your goods?


I try not to be to pushy with my goods and just have fun because that will keep more interested than making promoting feel like work. I just go with the flow. I peruse the Etsy forums, the EtsyBloggers forums and other peoples blogs. That's it! And it's so much fun!


14. What has been the most important lesson you've learned since you started selling your own creations?


Patience. I'm a regularly patient person but I taught myself to be even more patient! Also I learned to make this a fun experience because if it's not than I won't be doing it for long and I want to do it for a long long time!


15. What advice would you give to others who are thinking about or have just opened an Etsy shop?


Same thing that I've learned. Be patient, be very very patient and have fun! Don't worry, your time will come. Don't copy other people exactly have a niche that's uniquely your own. Show you care about your items through the pictures, people can tell!


16. Is there another website or blog you would like to promote? (if so, just give us the name, url and a short description)


I love visitng Blaze Danielle's blog http://blazedanielle.wordpress.com). She is such an inspiration and a super nice person! She sells her beautiful illustrations on Etsy.


17. Do you have any favorite Etsy artists?


My favorite Etsy Artists are Blazedanielle (Blazedanielle.etsy.com), valentinesattic (valentinesattic.etsy.com), modestambition (modestambition.etsy.com), and FancifulFlair (FancifulFlair.etsy.com) to name just a few!
For stunning jewelry and lovely handmade cards, visit DesignByNora Etsy shop. Nora's handmade items are so special!

Many thanks to Nora aka DesignByNora for granting this interview and for sharing her designs and inspiration!